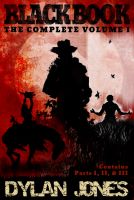 Black Book, Volume 1,
has the first three episodes of the genre-bending Black Book series. It's a story that mixes Western, science fiction, and fantasy into a quest that spans centuries.
In Part 1: The Devil's Blood, we find Sheriff Jack trying to keep the peace in a small, American West town during the 1860s. But Jack is no ordinary Sheriff. He has almost supernatural skills that help him survive a bloody encounter with bandits that shoot up his town and kill many of its citizens. He's quick on the draw, knows how to use his fists…and can time-travel out of town when a powerful adversary leaves him no choice but to retreat.
In Part 2: Out of Time, we meet Benjamin Freeman, President of the United States in the year 2308. Ben has directed his time-travel corps to locate Jack, an old military comrade who has gone missing in the distant past. When Ben personally oversees the operation, he walks into a trap orchestrated by a deadly faction that also wants to find Jack for its own ruthless purposes.
In
Part 3: The Wall
, Jack arrives in 1862 California.
He meets up with a six-year-old boy and his guardian, a mysterious old man who has met Jack before, though Jack has no recollection.
The old man guides Jack to a hidden object that Jack knows will change his life and the course of humanity.
First the good:
Jones' scenes in the Wild West were so awesome that I thought I was reading a Zane Grey novel.
In
Part 1
, I could taste the dust on my lips and smell the body odor of the gamblers in the saloon.
The Western dialogue was spot-on and I could feel the bullets zip past my ear during the gunfights.
Sheriff Jack is an interesting character because he understands the stakes of his mission, yet cannot help himself when he goes out of his way to protect the innocent, even if it threatens the success of his mission.
Most of
Volume 1
was about Jack, but Ben Freeman, who appears in
Part 2
, proved to be an interesting character as well.
Through him, we get a glimpse of the 24
th
century and how time travel becomes a truly devastating weapon.
Volume 1
only hints at Ben's military background and his relationship with Jack, so there is still plenty of ground to cover there in future volumes.
And in the Black Book world, lets just say time travel is not for those who fear pain or swimming.
Now for the warning:
I went into
Black Book, Volume 1
, thinking I'd get three episodes of good serial fiction.
What I got instead were three chapters of a great novel.

Let me explain.


A single episode of serial fiction should be like an hour-long episode of a TV drama -- the characters encounter a situation that they take action to resolve within that one hour.
While there may be an over-arching storyline that ties the episodes together, each one should have a clear beginning, middle, and end.
For me, the three episodes of
Black Book, Volume 1
, did not have that clear beginning, middle, and end.
They
had scenes that felt like set-up for a coming situation...but that situation never materialized, which made the scenes feel pointless within that episode.
But
Volume 1's
three episodes
were
what I'd expect from the opening chapters of an exciting sci-fi novel with an intriguing mystery.
Those
"pointless" scenes
would
work well in a complete novel that is a single story with a clear beginning, middle, and end.
The Black Book series promises to be a wonderfully engaging story that I look forward to reading and buying.
I highly recommend it for the storytelling, world building, and quality of writing.
I'm just going to wait for the omnibus version so I can read it all at once.
Black Book, Volume 1
, is available on Amazon.