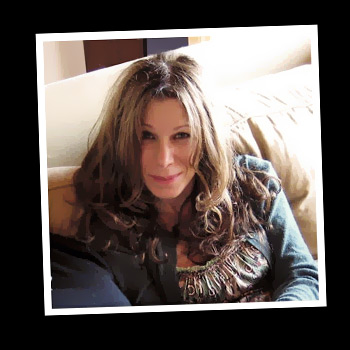 Bonnie Kozek is author of
Threshold
. Her work has been recognized by major arts and letters organizations, and she has taught writing at a major American university.
Q: When did you first catch the writing bug?



A: I came to "art" very early on in my life – while still in my single digits. It manifested in all sorts of disciplines. Drawing, painting, filmmaking, writing. But for the past fifteen years I've been writing – to the exclusion of everything except an occasional collaboration with other artists.



Q: What artists have you collaborated with?



A: The Spanish artist Salvador Dali. Over the years, and until his death, we worked together on numerous projects. The Dutch artist Jan Frank and I collaborated on "Mania" – a book of my poetry for which he created a series of original drawings. I've also performed in pieces by Jeffrey Perkins, the American fluxus artist. But, like I said, this isn't my primary focus.



Q: Okay. So, what impelled you towards art at such an early age?



A: I think people become artists for differing reasons. Some are born with immense talent, others make art to survive. I am of the latter category. It's a less intellectual approach – at least in the beginning. And it involves a lot of catch-up and tremendous risk-taking. But, there you have it.



Q: So writing began as a means of survival. Has that changed?



A: Oh yes, that has changed. Survival isn't my issue anymore. That ended long, long ago.



Q: So, why do you write?



A: I write for two reasons. The first reason is Words. I am wildly attracted to words. They are powerful and mysterious. I mean, in the extreme, words have the potentiality to Create or Annihilate. Although this is a dogma I'd love to discuss, I think it best left for another forum. So I'll leave that there. In the less extreme, but no less compelling, words are awesome – thrilling – miraculous! I mean, there seems to be a code – an answer to great mysteries – that lies just beneath the surface of the words. So, I write in order to get my hands dirty – to dig down – to unravel the enigmas. Secondly, writing grounds me to the earth – to time and space – which fulfills an intense hunger I have for terrestrial connection. It's funny because, theoretically, fiction writing doesn't really seem a natural conduit to "reality" – yet somehow it works for me. Beyond these two things, I write because that's what I've chosen to do. But then again, I'm not so sure if I chose writing or it chose me.



Q: What do you want to express in your writing?



A: I like the idea of taking deep, profound, weighty philosophical concepts and questions and stripping them of all adornment – wrapping them in "ordinariness," if you will. I want to express how extraordinary the ordinary is. I want to suggest to the reader that human beings are perfectly flawed, and that even though permanently stained, we are worthy of redemption – redemption as imperfect as the flesh. And, I want to convey these concepts in unconventional, unexpected ways. With the Honey McGuinness series, of which "Threshold" is the first, I employed the "hardboiled noir crime thriller" genre, with its monosyllabic style and tough-guy vernacular.



Q: Let's talk about Honey McGuinness. She's a complex character. How did you go about creating her?



A: I have a fairly large reservoir of idiosyncratic characters in my head. I pulled her from that reservoir.



Q: Why did you choose Honey McGuinness as a character to write about?



A: Well, in order to answer that I have to first talk about how the story developed. The nascent philosophical questions I wanted to examine in the story were these: What happens when the life of a "non-believer" intersects with the life of a "believer"? And what circumstances might bring such two disparate lives together? I was interested in the vertex – the exact point of intersection. Now, as I indicated above, I didn't want to write about such a lofty subject in a conventional way – long sentences composed of multi-syllabic words wrapped in a reflective and problematic story rooted in the compound complexities of the human condition. Nope. I wanted to unburden the reader of the traditional pulling of heartstrings. So, I turned to the classic noir genre – very unorthodox. Enter Honey McGuinness. Honey is sacrilegious, off-kilter, haunted, and severely damaged – a most unlikely heroine for whom no depth is too low to sink, and for whom no line is too sacred to cross. In short, the perfect protagonist for my purpose.



Q: In "Threshold" your description of Skid Row life seems very real. How did you go about researching that world?



A: I enlisted the left hemisphere of my brain, and hit the streets. I talked to and observed the itinerant and the drug addicted; DEA and regular beat cops. I spent time in homeless shelters. I'm crazy about doing research. It's the perfect counter-balance and repose to the glorious and torturous years I spend in the right hemisphere of my brain once I start writing. And no, my research did not include smoking crack!



Q: What adventures do you have in store for Honey McGuinness?



A: In the next book she searches for "love and sex" in all the wrong places and gets caught in a terrifying xxx-rated nightmare of biblical proportions. Now, when I say "love and sex," I mean it's a Honey McGuinness story, and in that context "love and sex" reads ultra-ultra-unorthodox.



Q: What is the title of the book and when will it be published?



A: "Just Before the Dawn." It is scheduled for publication this year.



Q: Speaking of publishing . . . how was your experience with self-publishing . . . with iUniverse in particular?



A: Very trying.



Q: Will you use iUniverse for "Just Before the Dawn"?



A: I think everything that could have gone wrong in terms of working with iUniverse on "Threshold" did go wrong, so I learned a lot. Now I know what I have to do to make the process run more smoothly. Plus I developed a good relationship with an editor there, who has agreed to work with me on the next book. So, I would say probably – I will probably use iUniverse for the next book.



Q: Do you have any advice for writers who might be considering self-publishing with iUniverse?



A: Absolutely. Have your manuscript finalized – proof-read, edited – before you submit it. Have your back-copy written and finalized before you submit it. Know your audience. Consider having your cover designed by a professional outside of iUniverse, which will lower the cost of the package that you purchase. Basically, the more you can do yourself the better.



Q: Okay. Who are your favorite authors and influences?



A: For a long time I only related to really tortured writers, poets, artists: Baudelaire, Rimbaud – the usual suspects. I remember reading an interview from 1919 with the writer Djuna Barnes. The interviewer asked her why she was so morbid and she answered, "Look at my life." I mean, that's what I related to. Not anymore. Now I like rhyming poems … and Artaud! In the noir crime fiction genre of the Honey McGuinness books, I'd say my favorite writers are Jim Thompson, Charles Willeford, Charles Bukowski, Raymond Chandler. Outside of this genre? Oh, there are so many. Among contemporary writers I'm crazy for Jeanette Winterson, Jonathan Lethem. I read Alice Munro, Carl Hiaasen, Walter Mosely, David Foster Wallace. Then there's Jean Rhys, Virginia Woolf, Anais Nin, Henry Miller – that crowd. There's Hemingway, Fitzgerald, and Steinbeck. And of course, Gabriel García Márquez. I'm sure I've missed some but as you can see, my stock is eclectic. Once you clean house, there's room for everything. I like that.



Q: How did you change over the years as a writer?



A: I used to write for myself. Now I write for others. And I feel a tremendous responsibility to the reader. I mean, it's an issue of trust, and I don't want to break that trust.



Q: What would you like to tell struggling writers out there?



A: I would tell them that writing is a discipline that requires immense self-control. It is difficult and terribly lonely – so be prepared. Set a schedule and stick to it. Don't deviate. If it's not flowing, write one word after the other. Don't give up. Be ruthless in your editing. Don't cling to words, sentences, paragraphs, pages, chapters, that aren't working – no matter how long you've worked on them or how precious you think they may be. Try to advance an authentic open-mindedness. And, most importantly, never never censor yourself!